Archery For Community Groups


So what will we do?
The session begins with a brief introduction, where safety and proper shooting technique is explained. Following this there will be a few "warm-up ends" to get the feel of how to shoot. Then they will be taught to score and start a mini competition amongst the group. We also have some animal targets to shoot at, if the group is comfortable with this. We finish with a good old fashioned balloon shoot, as you are never too old to shoot a balloon!
When do they run?
We can run these sessions any day of the week. The "Ultimate Package" will need to be scheduled an hour before or after opening as we need to use the whole range for the tag component. e.g 9-11 or 3-5 on a weekend. Please contact us to confirm your session time prior to payment.
What if i don't have 10 participants?
For less than 10, we would reccomend booking a "Try Archery" session at book.nabooki.com/elizaarchery. This means that you will not have an instructor present the whole session, but can be cheaper if there are fewer participants.
We can come to you!
Eliza Archery provide all our own equipment. All you have to do is provide a safe venue around 50x10m to conduct the sessions (football ovals are perfect!). Set-up and pack-up takes between 10 and 15 minutes. It's that easy!
We also have an archery range that you can hire, if you wish to source an alternative venue.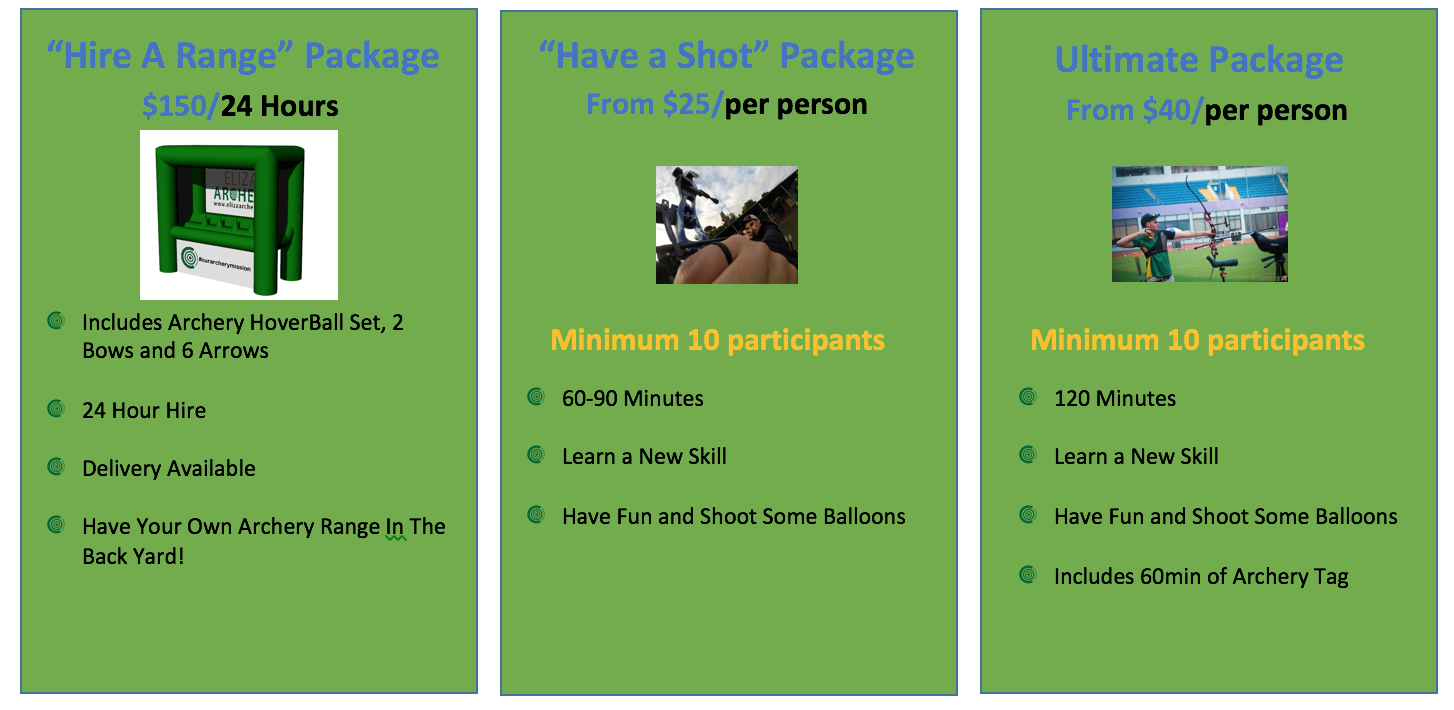 *Cost is $30 per participant if you would just like 60min of archery tag.
Add-Ons
$250 Guarantee Olympic Bronze Medallist, Alec Potts will run the session.
To make a booking, please head to the link below and choose the package and number of participants, then just give us a call or an e-mail(preferably at least a week prior) to book it in!
https://www.elizaarchery.com/eliza-archery-community-group-packages