Emily Cavell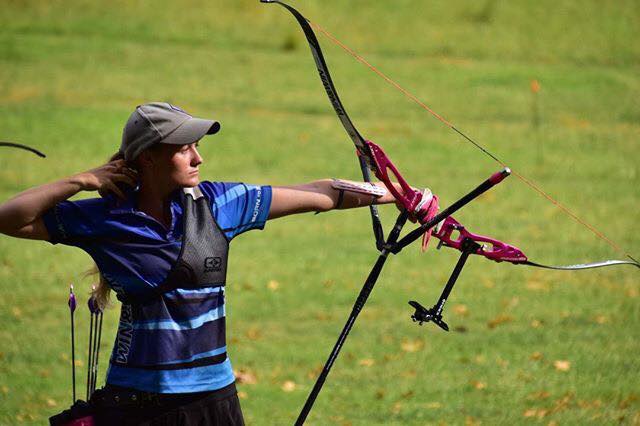 Background:
I have been shooting recurve archery for 6 years and competing for 5 of those so far. I fell in love with archery after watching the movie Brave, involving horseback archery. I did a little bit of horseback archery with the pony I owned at the time, but he didn't enjoy it as much as I did! That led me to taking my competitive recurve archery more seriously. I quickly set my sights on the Olympic Games as a career goal.
Career Achievements:
ArcheryNZ Outdoor Championships 2018 – WR 2ndPlace (Target), 4thPlace (Individual Matchplay)
Archery NZ Indoor Championships 2017 & 2018 – WR Champion
Attended World Cup Stage 1 2018 in Shanghai, China
Oceania Championships, New Caledonia 2018 – WR 1stPlace (Individual Matchplay), 3rdPlace (WA1440)
ArcheryNZ Outdoor Championships 2019 – JWR 2ndPlace (Target & Individual Matchplay), Open Recurve Matchplay (Mixed Gender, teams of 3) 1stPlace
Favorite Discipline (3D/Field/FITA, etc):
Target (FITA/WA). I love both indoor and outdoor competitions in this discipline.
What is your most memorable experience in archery?
Winning the WR individual matchplay final at the Oceania Champs in 2018, easily the best shooting of my life and I was 100% in flow state. It felt effortless and I constantly strive to achieve that level of performance again.
Best piece of advice for upcoming archers (Other than "shop at Eliza Archery")?
Practice hard! And remember to enjoy shooting along your journey. The reason we do sport is because competing is FUN – always keep this in mind whenever you feel stressed by a competition, let it help you get to an elevated level of performance. Loving your sport is so important.
Other Sponsors:
PURE Sports Nutrition (@puresportsnutrition) – NZ based nutrition products
Leaton Performance & Rehabilitation (@leatonperformance) - Auckland, NZ based physio
Spider Vanes (@spiderarchery)
Equipment:
W&W AXT Riser (pink)
W&W Winex Limbs (34lbs)
Fivics Sight
Shibuya Arrow Rest
Easton ACE Arrows
Spider Vanes (purple)
BCY8190 string material
Easton Nocks
W&W ACS Nano Stabilizers
Fairweather Tab
Beiter Armguard & Easton Chest guard
Follow Me at:
@emily_shoots_ on Instagram!
---
---