Indoor Range/Membership


Eliza Archery has our own 18 meter indoor range, with 6 target butts and room for 12-15 archers on the line at any one time. Whether you are a target archer, bowhunter or just wanting to give it a try, this is the place for you!
We are located at 20 Stephenson Road, Seaford. Just 2 minutes off the freeway! We also have a bus stop directly outside the building.
For casual archery with your own equipment, the cost is $20/hour or $25/day. No bookings required.
No prior experience needed, to book a "Try Archery" session or a coaching session, please click the link below.
Our Pathway
Are you looking to progress in archery and not sure how? We have outlined the steps below, so you can follow these on your path to becoming a competent archer! Any questions? Just give us a call!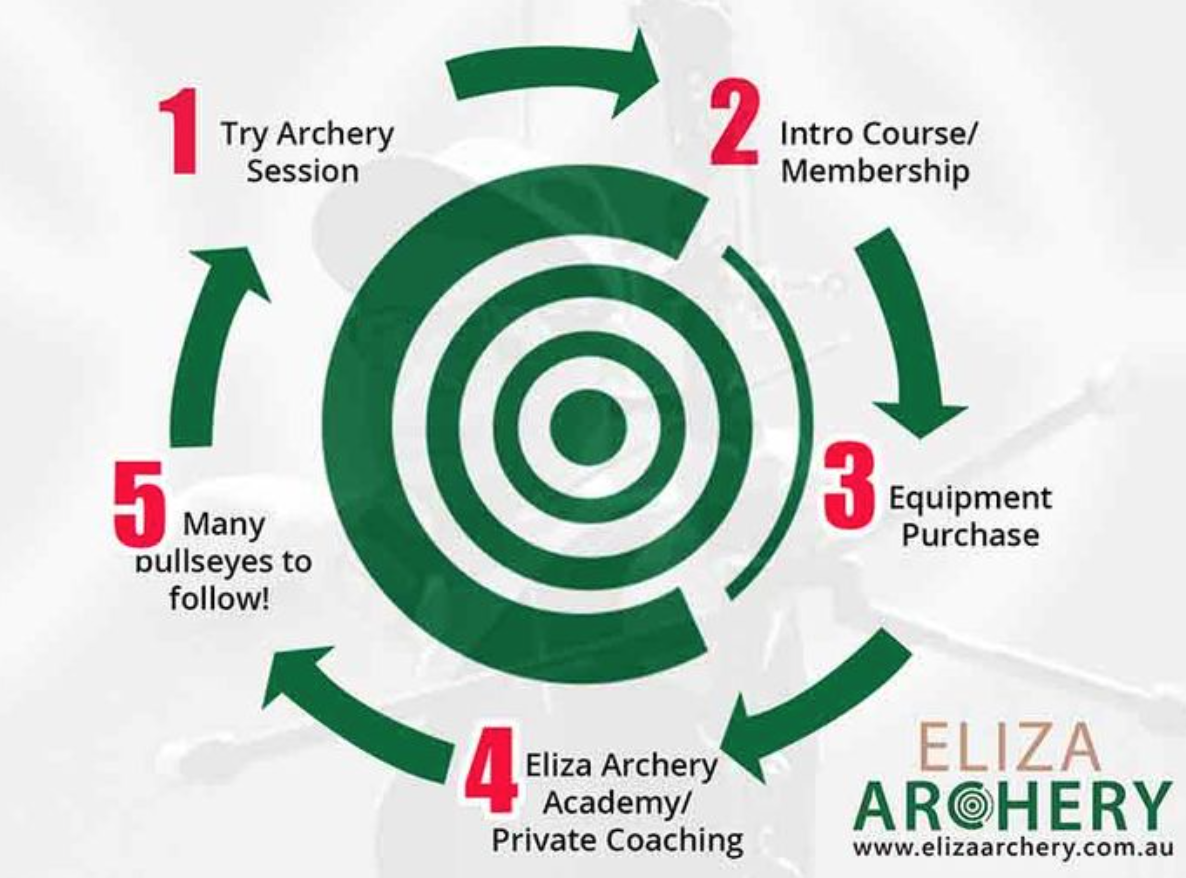 Membership
Looking to become a member? Eliza Archery is one of the only archery clubs in Australia to offer direct debit membership. Become a member by filling in the forms below and e-mailing us, or dropping them off at the shop.
Family Memberships available at $150/month for 2 adults and 2 children.
Please see our welcome pack below for more information
Group Classes
We host a number of regular events at Eliza Archery that are available to both members and non-members such as;
Eliza Archery Tag - Saturday 5PM
Shoot your friends/colleagues with foam-tipped arrows. Sounds fun doesn't it? That's because it is fun! Eliza Archery is proud to introduce our own version of Archery Tag! Archery Tag is basically Paintball with Bows and is very similar to Dodgeball. We provide an inflatable battlefield and all playing equipment, including full mask, recurve bows, targets and foam tipped 'LARP' safety arrows. The equipment and games are easy to use, even if you have never shot a bow before! Throughout the course of your event we will run you through lots of fun game modes including Elimination, Team Death Match, Infection, Last Runner Standing and more. Please book to confirm your spots. https://book.nabooki.com/elizaarchery
Time; Saturday 5PM
Cost; $30 (non members) $15 (members)
After-School Archery - Monday/Thursday 5PM
Twice weekly slot after-school, for children to come in and learn/improve their archery! We provide all equipment and instruction, sessions run for 60 minutes and are $25/head for non members, $12.50ea for members.
Held at Eliza Archery, the home of Olympic Medallist, Alec Potts.
Come along to 20 Stephenson Road, Seaford and learn how to shoot a bow and maybe even pop some balloons in the process! It doesn't matter whether you have never shot a bow before, or you are experienced in the sport, we cater to all!
No minimum age, but we ask parents to please remain on the premises for all children under the age of 8. Please book to confirm your spots. https://book.nabooki.com/elizaarchery
Time; Monday 5pm, Thursday 5pm
Cost; $25 (non members) $12.50 (members)
Group Coaching with Alec Potts - Monday 7PM
Alec is currently the only level 2 KSL coach in Victoria. He has attended seminars led by some of the most influential coaches in the world, such as Kisik Lee, Kim Hyung-Tak and George Ryals.
He is an Olympic Medallist and is theonly Victorian archer to have won National Championships with both Recurve and Compound. He has also held State and National records with longbow, barebow recurve, barebow compound and even competed with crossbow!
Sessions go for 60 minutes and are limited to 6 archers. Individual sessions can also be booked upon request.
Book now at book.nabooki.com/elizaarchery
Time; Monday 7pm
Cost; $60 (non members) $50 (members)
Eliza Archery Indoor League - Wednesday 6:30PM (fortnightly)
Introducing our fortnightly indoor league! Format/Distance changes every week, please check the Facebook page for the round to be shot. There are two divisions, Open Recurve and Open Compound. If scores are tied, then the winner will be determined by a shootoff. 50% of all entries goes back into prize money for winners. Maximum of 20 archers allowed, so first come first served!
Please book at https://book.nabooki.com/elizaarchery
Time; Wednesday 6:30pm (fortnightly)
Cost; $20 (non members) $10 (members)
Intro To Archery Course
This is a 4 session course, designed to introduce you to the various types of bows within the sport. You will get the chance to shoot a Longbow, Barebow, Olympic Recurve and Compound Bow. And will finish this course with a greater understanding of which type of bow you prefer. These sessions can be booked at your convenience, so please call us on 0488201288 or enquire in store. Cost is $150.
Opening Hours;
| | |
| --- | --- |
| Monday | 12pm - 8pm |
| Tuesday | 12pm - 6pm |
| Wednesday | 12pm - 8pm |
| Thursday | 12pm - 6pm |
| Friday | 12pm - 8pm |
| Saturday | 10am - 4pm |
| Sunday | CLOSED (Group bookings only) |