Keynote Speaking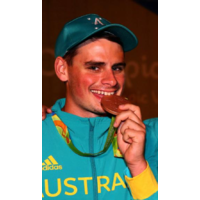 This package includes a 60-minute talk and Q&A
Elite athlete and medalist Alec Potts offers motivational talks, that draw from experiences gained during his Olympic journey, catered towards students and corporate groups. He speaks of how he was banned from his main training venue in the year leading up to the games, and how he delt with this challenge to come out on top. Reflecting on his involvement in the sport, Alec engages the audience with videos from his road to success and anecdotes of the adversity he faced to get to the podium.
Addressing important topics of discipline and grit, and the value of failure, Alec brings realism to the truth that success is not a game of chance, but a game of strategy. Emphasizing the traits necessary to give the audience a winning edge, over others trying to be successful in the same field, so long as they find the motivation.
Alec is a very relatable speaker who has achieved all he has in only 20 years of life, bringing youth to his talks as he relates to the students, as not long ago he was sitting where they were, hence these seminars are particularly popular for students undergoing their VCE.
Recommended for;
Corporate Groups
Conferences
Schools
Community Groups
*Other requests for session duration alterations and content will also be looked into
To make a booking or to request further details, drop us an e-mail via the, "Contact Us" form
Alec came and spoke to a whole school assembly this term and, as a returning student coming back to his old school, this presented quite a challenge. After schooling a video of his Rio Olympics bronze medal winning experience and talking to the audience for an engaging 20 minutes, Alec then answered questions from our Principal before opening up to a broader Q&A session with the student and teacher audience. Far from being intimidated by returning to his old school, Alec was one of the most engaging speakers we've had at our assemblies. He was able to speak with clarity about his own passion for archery and his own learning journey before responding to a range of questions with intelligence, humility and good humour. The feedback from the students after Alec's talk was incredibly positive; for many a highlight of the year.
- David Burton, Woodleigh School Head
Alec Potts' Credentials
Rio 2016 Olympic Bronze Medalist
Past World Record Holder
Multiple National/State Champion
Represented Australia over a dozen times internationally
Qualified Archery Coach
Working with Children's Check
Fully insured