How to Start Archery; Finding an Archery Club
Author: Alec Potts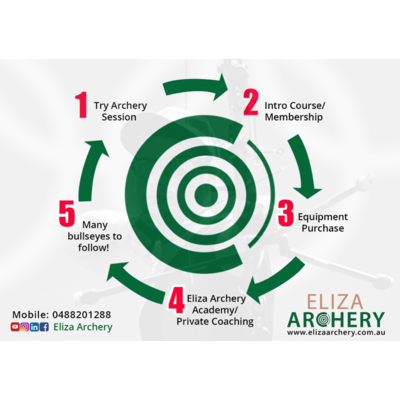 Looking to get started in Archery? Whenever archery is mentioned, people always exclaim "Oh I'd love to do that!". Or, "I tried that on school camp years ago". But the problem is, that many people just aren't sure of how to start archery lessons or where they can go to get advice or coaching.
The first step is to find an Archery Club. Many individuals will just jump straight into a purchase without first going to a club, and more often than not, this purchase results in a bow that is unsuitable for them. The benefit of looking through Archery Clubs till you find the one nearest to you, is that you will then gain access to a wealth of knowledge, that will not only allow you to ascertain what equipment you need to buy, but also advice on technique, equipment set-up and how to progress within the sport.
To simplify the pathway to progress within archery, we created the, "Eliza Archery Pathway".
1) All equipment is provided and no prior experience is necessary. Our instructors will assist you at the beginning of the session and check in on you throughout, leaving you time to enjoy your session without constant instruction! However, there will always be an instructor on the range or in our pro shop if you need a hand.
2)You will get the chance to shoot a Longbow, Barebow, Olympic Recurve and Compound Bow. And will finish this course with a greater understanding of which type of bow you prefer. This course costs $150 and the sessions can be booked whenever suits you!
Now that you have a greater understanding of the sport, it's time to get your own equipment! Our bows start from just $250 for a basic recurve package, we also stock compounds, longbows and many other types of bows. And anything we don't have in stock, we can usually order in.
Now that you have your own bow, the next step is to get some more expert instruction. This can either be through our Eliza Archery Academy, or through Private coaching from our resident Olympian Alec Potts, or from one of our qualified instructors.
Our membership starts from just $8.50/week; with your own equipment this entitles you to use the range 7 days a week during our opening hours with no additional charges! For those without equipment, members pay just $10/day to hire a bow/arrows. Members also receive discounts on all events, as well as all Eliza Archery apparel and target faces.
To get started, book your first "Try Archery" session here!
---
Leave a comment