Keynote Speaking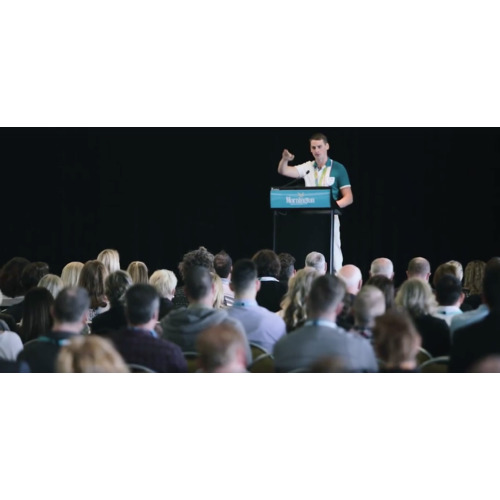 Elite athlete and Olympic Medallist, Alec Potts offers life-changing talks, that draw from experiences gained during his Olympic journey. He speaks of how he was banned from his main training venue in the year leading up to the games, and how he dealt with this challenge to come out on top. Reflecting on his involvement in the sport, Alec engages the audience with videos from his road to success and anecdotes of the adversity he faced to get to the podium.
Alec also started his own business at the young age of 15, which he still owns and manages today. He tackles the importantance of a strong mental game and the value of failure. Alec brings realism to the truth that success is not a game of chance, but a game of strategy. Emphasizing the traits necessary to give the audience a winning edge, over others trying to be successful in the same field.
Alec is a very relatable speaker who has achieved all he has in only 24 years of life, bringing youth to his talks as he engages his audience.
Recommended for;
Corporate Groups
Business Conferences
Schools
Community Groups
To make a booking or to request further details, drop us an e-mail via the, "Contact Us" form
Testimonials
"Alec Potts was such a dynamic and engaging speaker at our recent BITE conference in front of 300 small business owners. As an Olympic medallist who also runs a business he entertained and inspired the audience with his journey and the key principles that he successfully applied in his lead up to the Olympics, the Olympic games and his business. I would highly recommend him as a talented young motivation speaker for all ages."
- Shannon Smit, Director SMART Business Solutions and organised of BITE
"Alec delivered a speech to 700 students here at Melbourne High School. What impressed us was his ease and poise in front of such a large student cohort, as well as his capacity to pitch his message at the appropriate level - the students were immediately captivated and engaged in Alec's message.Alec delivered an enthralling account of his Olympic competition in Rio 2016, but perhaps more impressive was his insight into sports psychology and how this could be applied to the students' lives and their academic pursuits. Alec's insight into mind training was instructive and many of the students have since expressed their appreciation for the advice.
We found Alec to be amenable, extremely professional and would certainly recommend him to other schools and organisations."
- Melbourne High School
"This year (2017) one of our speakers was Alec Potts, a young Olympian from the little known world of international archery. I know that I speak on behalf of all our members when I say that his address to us has only been surpassed on a few occasions and on those instances by those with many years of experience in their respective sports and with a professional after dinner speaking background.
Alec's skill as an archer, confident modesty, motivation, empathy to our members and sense of humour is a credit to him and his sport and I have no hesitation in recommending him to you as a public speaker. I share the view of many of our members when I say that we feel that Alec has a great future as a motivational speaker."
- Roger De Maid, Probus Club President
"Alec came and spoke to a whole school assembly this term and, as a returning student coming back to his old school, this presented quite a challenge. After schooling a video of his Rio Olympics bronze medal winning experience and talking to the audience for an engaging 20 minutes, Alec then answered questions from our Principal before opening up to a broader Q&A session with the student and teacher audience. Far from being intimidated by returning to his old school, Alec was one of the most engaging speakers we've had at our assemblies. He was able to speak with clarity about his own passion for archery and his own learning journey before responding to a range of questions with intelligence, humility and good humour. The feedback from the students after Alec's talk was incredibly positive; for many a highlight of the year. "
- David Burton, Woodleigh School Head
" Thanks for a great presentation on Monday, Best wishes for your future, we will all now take a greater interest in the sporting news to watch your progress. "
- Roger Annear, Mt Martha Rotary Club
---
Comments (1)
Mornington Chamber of Commerce

11 October 2017

Hi Alec, I saw you speak at Bitecon and thought it was great! I'm the marketing and promotions co ordinator at the Mornington Chamber of Commerce. We hold quarterly network nights for our members. I was wondering if you would be able to speak at one of them? Motivation for local small businesses? Please advise your cost and if you would be interested/available. Office: 59754522 or email info@morningtonchamber.com.au I look forward to hearing from you, Kind Regards, Alex.
---
Leave a comment